For under R 10 000 you can start your own home-based grocery store/service and build it into a great business over time. Get access to our amazing wholesale grocery prices, delivered to your Joburg home, and start selling products to your community, friends and family immediately! Just follow our easy franchise model training to start earning profits – R5000 worth of stock included to get going!

My African Shop is a 'spaza shop type franchise' which is a great opportunity for anybody in the Joburg area who is looking to generate an income independently. You will make money by selling essential grocery products to your community, friends and family at great prices. Especially if you have limited capital to invest in a business to get started, this may be an excellent way to start and grow your new grocery business over time. Your shop can easily be run from your home, as you will have a distributor who delivers your stock to your home in Johannesburg – in small quantities (R3000+) and within 48-hours. 
What can I sell?
To get your shop going, you have over 200x grocery products to choose from, from famous South African brands. Click here to see the full catalog of products available to order from.
Requirements to Apply:
You must be based in our delivery zone in Gauteng. See the map for the exact delivery zone of our distributor HERE.
Cash Flow of R10000. You will need R4990 to purchase a 'My African Shop' package and R5000 to make your first purchase of stock.
Distributor T+C's (
See Map
):
Inside Delivery Zone. As you will see on the delivery zone map, there is a 'Free Delivery Zone'.

this 'zone' qualifies for free delivery.
free delivery is for orders valued of R3000 or more.
this is great as you will not need to travel to buy your products.

Outside Delivery Zone. If you are based outside of the Greater Johannesburg Area – you can still become a franchisee, but without the Distribution Deal.

You will have to arrange buying stock at wholesalers yourself. We cannot assist with this process.
We will give you a R1500 Discount on the franchise setup cost if you do not require the 'Distributor Deal'.
Or you will need to collect the stock yourself from our wholesaler (minimum order R3000) – please speak to one of our consultants for more info.
This Is The Perfect Opportunity For A New Entrepreneur In South Africa – See The Video Interview Below.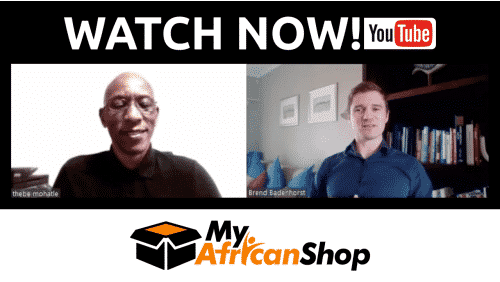 Why Will Your Community Buy From 'My African Shop'?
Just a few reasons:
LOW PRICES: Even with your mark-up, your selling prices can be lower than the average big retailer's prices – due to your great deal with our selected local distributor based in Johannesburg.
EASY DELIVERY: You get free delivery within 48-hours to your home in bulk (if you are in the Delivery Areas) and therefor your local clients do not have to drive to shops as they are close enough to you for 'pick-up'.
FORMAL BUSINESS: You get a registered business, brand, distribution deal and training upon starting up – which will increase your chance of keeping clients happy over the long-term.
Cost to Start 'My African Shop' Today?
R 4 990: This is a once off cost to buy a franchise. After that, all your profit is 100% yours – there are no royalties or cuts going to other parties.
R 5 000: For your first order, you will need R5000 in cash to pay for the stock COD.
Profit Projections:
Following conservative estimates, your 'My African Shop' can see profits of R3000 – R15000 on a monthly basis when using all the training provided in the package effectively. Of course your success will depend on your ability to win over new Clients.
These estimates are calculated by assuming you can achieve a client base of 50 families who spend R1000+ each per month at your shop.
You will be able to get a full return on investment (ROI) within the first 2-3 weeks after you buy the franchise, once again this depend on how much effort you put in to sell your products. See the calculation here on our

'Profit Sheet'

.

Our distributor promises to always offer market related prices. On average, a mark-up of at least 20% can be added to wholesale prices to compare with retail prices. This means that on average, you will be able to add approximately 20% to your prices for many products, while still selling products at prices that are lower than average retail prices.
Included in the 'My African Shop' Package.
Company Registration. All your company registration documents.
Branding. Flyer design, Basic Website and Facebook page.
Stock System. Simple, Excel based stock system for stock keeping.
Training. An Action Plan on how to get going; and an online business course presented by a SETA accredited facilitator.
Contract with a Distributor. This contract includes:

Registration to get the best pricing possible.
Discount on your first order of stock.
Free delivery of your stock (within 48 hours) if you fall within the delivery zones.
Excluded: Company Partners do not provide ongoing support; and in turn do not charge any ongoing fees or royalties.
Timeframe: 1-2 Weeks.
To setup your company and get your first order delivered it will take 1-2 weeks – you can potentially have your first sale as soon as this. This is based on the assumption that you will send us all the documents and info we need to register you at the Johannesburg distributor ASAP.
50 000+ Clients assisted since 2006
We Are South Africa's Most Popular 1-Stop-Shop for Entrepreneurs.
Our experts assist you with every step towards successful company compliance – within record timeframes!
Free Consultation Session Being Booked @ Company Partners
Give us a few seconds to sort you out…
Your account will be created automatically in the next 24h
We encountered a problem creating your account, however we will still create your account at a later time
FREQUENTLY ASKED QUESTIONS
Q: Can I use my existing PTY Company to register the My African Shop under?
A: Yes. We have a 'My African Shop' package that includes all parts of the package except for the Company Registration. This is since many people might opt to trade under their existing company. The package that excludes the PTY is R1000 cheaper than the package that includes the PTY.
Q: Can I still buy a 'My African Shop' if I live outside the distributor's delivery area?
A: Yes, you can. We have a package that includes everything except for the contract with the distributor. Our distributor only delivers within a certain area. If you fall outside of that area, you can still buy a "My African Shop" and have a ready-to-go business that you can sell anything from.
Q: Can I still make use of the distributor that Company Partners has a deal with if you fall outside the delivery area?
A: Yes, you can. But, delivery of your products by our distributor would not be possible. We can provide you with a transport company that will be able to deliver your products, but this will be at an extra cost. Depending on the size of your order, it might be more beneficial for you to find your own distributor if you fall outside the delivery area.
Q: What products are offered by the distributor?
A: Grocery products. Broad range of common grocery products. Mostly non-perishable products. Over 500 SKU's & 200 variations of products.
Q: What can I sell from the 'My African Shop'?
A: Anything legal. The 'My African Shop' is a ready-to-go business that can be used to sell any product or provide any service. The contract with the distributor gives you the opportunity to start a grocery shop, but if you want to sell other products from the shop you can do that. There are no guidelines that a 'My African Shop' owner needs to follow.
Q: POOR CUSTOMER SERVICE IS COMMON AMONG SPAZA-TYPE SHOPS. HOW WILL 'MY AFRICAN SHOP' BE ABLE TO AVOID THIS COMMON CHARACTERISTIC?
A: All admin with respect to starting the company and getting systems in place for marketing, growth, keeping track of sales & stock etc. are handled by Company Partners. Thus, there is more time for the shop owner to ensure quality customer service and that all business runs smoothly.
Q: HOW CAN THE SHOP OWNER BE SURE THAT HE/SHE WILL BE SELLING QUALITY PRODUCTS?
A: Our Distributor is supplied by Tiger Brands Limited, Wilmar International Limited, Casa Mia Biscuits, AVI National Brands, The Lion Match Company, Dew fresh and Atlanta Sugar, and delivers to the 'My African Shop'. Thus, known and trusted quality brands will be delivered to 'My African Shop'.
Q: WILL THE SHOP BE ABLE TO PROVIDE A WIDE VARIETY OF PRODUCTS?
A: With over 500 variations of products, our Distributor supplies everything that a basic Spaza Shop needs.
Q: A LACK OF BUSINESS KNOWLEDGE IS OFTEN THE DOWNFALL OF A 'SPAZA'-TYPE SHOP. THE ROOT CAUSES OF THE LACK OF KNOWLEDGE ARE THAT TRAINING PROGRAMMES ARE EXPENSIVE AND THAT NOT MANY QUALITY OPPORTUNITIES, THAT ARE DIRECTLY APPLICABLE, PRESENTS ITSELF TO SPAZA SHOP OWNERS. THIS CAN LEAD TO THE BUSINESS LOSING MONEY NEEDLESSLY. HOW WILL THIS OPPORTUNITY DEAL WITH THIS MAJOR CHALLENGE?
A: Included in the Company Partners package is a SETA accredited online Business Course that covers a broad range of necessary business skills to make a successful business. Consultation sessions are also available from a SETA accredited facilitator. This is an extremely valuable opportunity and will give the business owner the necessary skills and knowledge to ensure that his/her business is set up for long term success.
Q: DUE TO SPAZA SHOPS USUALLY STRUGGLING TO NEGOTIATE WITH DISTRIBUTORS BECAUSE OF LOW PURCHASING POWER, SPAZA SHOPS OFTEN HAVE UNSTABLE PRICES THAT CAN BE HIGHER THAN AVERAGE RETAIL PRICES. HOW IS THIS OBSTACLE OVERCOME?
A: Since 'My African Shop' is sold to the shop owner through Company Partners that has made a deal with ourDistributor based on bulk purchases over a period of time, discounts and good deals are offered to 'My African Shop' owners.
Q: THE STANDARD DISTRIBUTION SYSTEM THROUGH WHICH SPAZA SHOPS SELL THEIR PRODUCTS OFTEN LEAD TO A HIGH CRIME RATE. HOW WILL THE 'MY AFRICAN SHOP' FRANCHISE OPPORTUNITY IMPROVE ON THE HIGH CRIME RATE THAT IS RELATED TO SPAZA SHOPS?
A: Spaza Shop that gives clients the opportunity to order products in advance and pick them up is a massive competitive advantage. This will decrease the crime rate at Spaza Shops significantly since, if the order system is used effectively, there would never have to be large quantities of stock on the premises for long periods of time.
Q: MANY SPAZA SHOPS FAIL SHORTLY AFTER OPENING. THIS CAN BE CAUSED BY POOR MARKETING, NOT KEEPING TRACK OF STOCK AND NOT FOCUSING ON COMPETITIVE ADVANTAGES OVER THEIR COMPETITION. DOES THE 'MY AFRICAN SHOP' FRANCHISE TAKE THESE CHALLENGES INTO ACCOUNT AND HOW DOES IT DEAL WITH THEM?
A: Included in the Company Partners package is, among many other things, a business Facebook page, a business website and a flyer design. The fact that the information on the products will be available on multiple online platforms and that the shop will have access to many ways to advertise their shop, will contribute massively to ensure a long-term successful business.
Q: The fact that the business is bought with all systems already in place gives the owner the opportunity to explore options in which to make his/her business better than competitors. One of these extra options would be to consider delivering large enough orders within a designated area.
A: The package also includes systems with which to keep track of stock and sales. These systems combined with the necessary business knowledge will ensure that the business owner always keeps his/her 'My African Shop' set up for long term success.